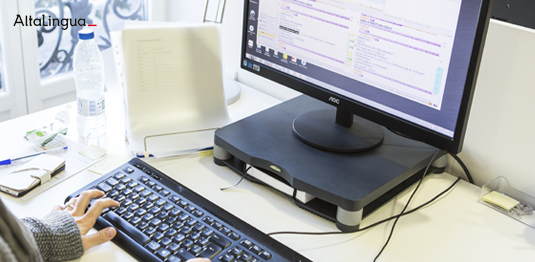 AltaLingua has a team of in-house sworn and native translators and interpreters specialised in financial and economic translation, thanks to their specific training in this field as well as the experience that they have been gaining on a daily basis for more than a decade. AltaLingua translates every day market opening reports, recommendations, articles about a variety of assets, as well as weekly, monthly, quarterly and annual publications for financial boutiques, funds, private banks, financial institutions, consulting firms and banks. Likewise, AltaLingua translates economic and financial documents of all sorts for clients from other sectors.

Some of the most common documents requiring a financial translation are the following:
Annual accounts, balance sheets, reports, profit and loss accounts, cash flow statements, management reports
Audit reports
Recommendations, asset reports, financial articles and publications
Information memorandum, informative leaflets of funds
Trading Platforms
Technical and essential analysis training courses, and training to operate on actual platforms.
Letters of funding intent, bank certificates, receipts, bank statements, etc.
Having a team of translators specialised in financial and economic translation is a great competitive advantage for AltaLingua, and a guarantee for the client, both in terms of the quality as well as the delivery time, which is a key factor as numerous texts have to be translated within the same day, and during the opening hours of the stock markets.
About altalingua
AltaLingua is a leading company in the translation and interpreting sector. It works with the most important banks, consulting firms and more than 500 companies all over the world, offering a variety of language pairs and a great flexibility in financial and economic translation. Moreover, its team of native translators translate into 30 languages on a weekly basis. This guarantees that the translations are of a high quality and meet the requirements of each and every project.

AltaLingua has a team of in-house native translators, which guarantees the quality and the rapidity of the translation and allows for competitive rates. In addition, AltaLingua has implemented Quality Management Systems based on Standards ISO 9001:2015 and UNE-EN 17100:2015.
Request a quote for a financial translation
No-strings attached financial translation quote. Send us your document through the Quote Request form or by e-mail to translations@altalingua.co.uk so that we can offer you the most competitive quote.

QUOTE