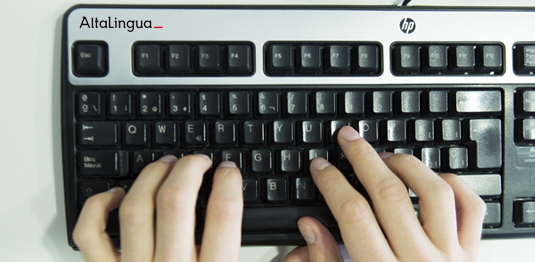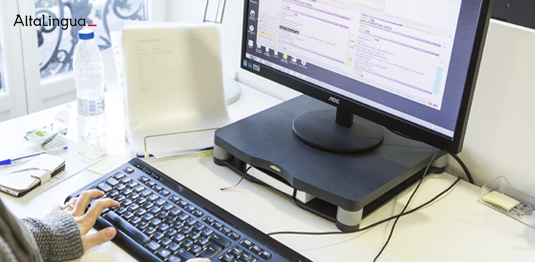 Language transcription consists in reproducing any type of audiovisual document into text. To offer a quality transcription, the transcriber must have deep knowledge of the source language and its localisms, so as to grasp all the content within its context and allow for a possible translation if necessary.

There are two main types of transcription, which are applied according to the aim of the project:
Literal transcription: When an exact transcription is required, even pronunciation mistakes, sounds, unfinished words and all the exact and literal features of the content must be included.
 Natural transcription: When a natural transcription is required, common oral mistakes must not appear, all the irrelevant content has to be erased, without losing any information and guaranteeing the right transmission of the message.
AltaLingua offers transcription services to all languages, and from any audiovisual document, and ensures the translation to any language. We have a team of native translators, with wide a wealth of experience in transcribing audiovisual content.

The most common services regarding the transcription of audiovisual content are:
Transcription and translation: first of all, the entire audiovisual content is transcribed by a native transcriber in the source language. The transcriber has to consider all the unique features of the message, whether that be the tone, the context, localisms or any element that could impact on the meaning of the message. Then, a translator adapts the contents to the target language, checking that the meaning and the link between the written message and the audiovisual content are accurate.
Subtitling: To create subtitles, it is common to transcribe the audiovisual content, translate it and adapt it according to the video features, times and the length of the sentences in order to ease the audience's reading. 
FORMATS:
AltaLingua Works with most audiovisual formats for content transcription, accepting both digital and analogue formats. If you need a transcription, please contact AltaLingua.
ABOUT ALTALINGUA
AltaLingua is the leading company in the translation sector in Spain. It works more than 500 companies all over the world, offering a variety of language pairs.
Each week, AltaLingua translates to more than 30 languages thanks to a team of native translators, who guarantee the right adaptation of the audiovisual content according to the format and requirements of each project. Also, AltaLingua has implemented Quality Management Systems based on Standards ISO 9001:2015 and UNE-EN 17100:2015
Request a quote for a transcription.
No-strings attached transcription quote. Send us your material through the Quote Request form or by e-mail to translations@altalingua.co.uk so that we can offer you the most competitive quote.

QUOTE